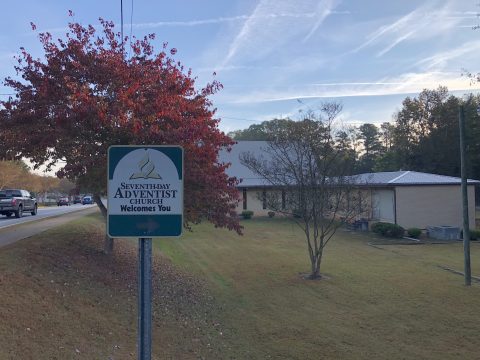 Here's what you can expect to experience when you arrive on a Saturday morning.
Accessibility
The side door by the piano leads to an exterior door that's connected to a ramp. So if you need ramp access, that's your door. Just let a greeter know.
If there's something else you need in order to worship with us, please let us know.
9:30-10:30 am 
Sabbath School (Bible study) begins for adults. It meets in person in the room down the hallway from our sanctuary.
10:00-10:50 am
Sabbath School begins for children in our Friendship Center.
Parents, please walk your children over.
10:30 am and on...
One of our greeters will welcome you. Folks may be casually talking with one another in the foyer or in the sanctuary. 
If you're a guest, we won't ask you to stand during the service. We will offer you a gift bag before you enter the sanctuary.
Sabbath School classes wrap up and we all head to the sanctuary for our joint worship service. Grab a drink at the water fountain. Use the bathrooms just to the right (women) and left (men) of the sanctuary doors.
The women's bathroom has a changing table as does the mother's room down the hall, through the overflow room. 
The mother's room certainly isn't exclusive to mothers—fathers can use it, too. But we want to make sure nursing mothers have their privacy. 
While we believe that the sanctuary is a place in which we get to worship God, we also realize that our foyer is small. So please feel comfortable conversing with friends and strangers, alike, in a way that allows others to hear each other, too.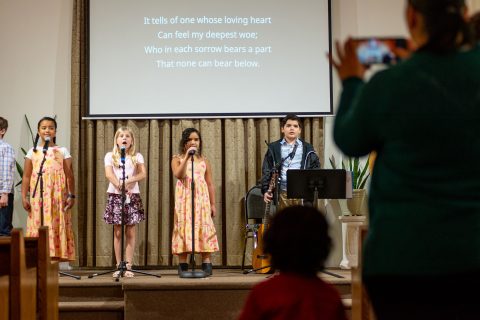 Current guidelines for indoor worship:
masks are not currently required.
place your offering in a basket when you enter the foyer (or give online). We believe that all the blessings we receive come from God and so we give some back to Him to be used in both local ministry and work in other places. We return 10% of our earnings as well as offerings. To learn more, click here and here.
use back room for anyone not comfortable in the sanctuary (max of 7 people)
Our FM transmitter will be setup for those wanting to listen from your cars (89.3 FM). We will continue to livestream on Facebook and YouTube every week.
If you can't make it in person, you can tune in to our livestream on YouTube or Facebook.
11:00 am
Someone will welcome us and share announcements. Other members may also have announcements to share that they've arranged for ahead of time.
We'll then sing together. Sometimes we sing hymns. Sometimes we sing contemporary praise songs. Sometimes we sing older choruses. Sometimes we do a mixture. The words are on the screen and we invite you sing along as we praise God through music.
We sometimes stay seated as we sing. Please feel free to stand or sit as is comfortable for you.
Next we have a time of testimony and prayer that is led by one of our members.
We sometimes have a special song that's played or sung. It's a wonderful opportunity for someone to share their musical gifts while also helping us transition to the sermon.
One of our children will read a verse (or more) from the Bible that expresses the focus of the day's sermon.
And then a Bible-based, Jesus-centered sermon is preached by our pastor, an elder, or a guest speaker. Sermons usually last about 30 minutes and both challenge us and encourage us for journey ahead.
After the sermon, we stand together again while someone leads in the closing song which is often a hymn of commitment, us saying "yes" to Jesus once again. And then the preacher will say a prayer.
12:15 pm
Whoever has preached will often walk down the aisle to the foyer and say hello all who've come. We don't have ushers to actively dismiss each row—we exit through the main or side doors whenever we're ready.
If you have to run, no worries. If you wish to stay and visit with others, feel free. We hope you've experience the love of Christ and we hope to see you again.
---
Food
Potluck is every third Sabbath of the month.
Communion
It is open to all believers, as well as those seeking a closer walk with Christ, and is held quarterly. Learn more here.
Outside Time
We do have monthly walks/hikes led by our social activities team. Add your email to our weekly newsletter so that you can get those (and other) updates.
---
Questions?
Please ask! We hope to see you soon.