B.L.E.S.S.
BEGIN with prayer for laborers and while you're praying, go. You become the answer to that prayer. "God, send me to someone." "God, send someone to me."
LOOK for openings. Look for people who are ppl of peace. They were already looking for you. What are some of the places you can look for openings? Become a regular somewhere. 
EAT to build relationships. Jesus embodies this. "The Son of man came eating and drinking" Luke 7:34 Eating meals together slows us down. Who are some people in your circle that you can grow deeper with in relations through 
SERVE to meet needs. How can we serve those you know in ways that bring healing? 
SHARE the good news of the Gospel. This is what we end with not begun with. By now, they know and love and trust you. We only know how to share the good news with someone when we know the bad news in their life.
---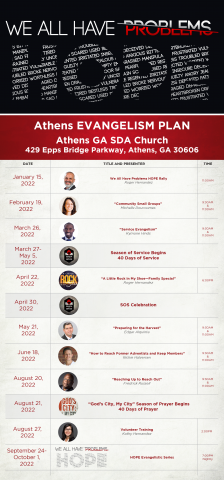 A bare bones version:
February 19
Community Small Groups with Michelle Doucoumes

March 26
Service Evangelism with Kymone Hinds

March 27 through May 5
Season of Service (40 Days)

April 30
SOS Celebration

May 21
Preparing for the Harvest with Michaela Lawrence Jeffery

June 18
How to Reach Former Adventists and Keep New Ones with Richie Halversen

August 20
Reaching Up to Reach Out with Frederick Russell

August 21
Season of Prayer (40 Days)

August 27
Volunteer Training with Kathy Hernandez

August 28
A Little Rock in My Shoe—Family Special with Roger Hernandez

Sept 24-Oct 1
Hope Evangelistic Series