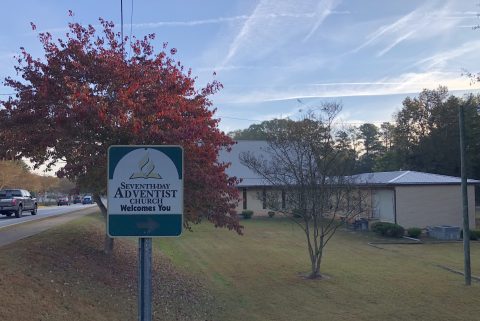 One day, we'll return to a version of the details you find below the line. For now, here's what you can expect on a Saturday morning.
9:30-10:30 am 
Zoom Sabbath School (Bible study) begins for adults.
Meeting ID: 627 517 0295
Passcode: 096239
10:00-10:30 am
Zoom Sabbath School begins for children.
Click here to get the link
11:00 am-12:00 pm
Drive-in worship service begins in our parking lot and on our lawn. 
When you arrive, you'll be welcomed by one of our members and if you have questions about where to park, they'll help you out.
If you need to use the bathroom, you'll need to wear a mask and enter through the door facing the driveway--a greeter can help you out.
We are socially distancing so we ask that you either stay in your car or (on warm days) sit in a lawn chair and remain 6 feet or more apart from anyone who isn't part of your pandemic pod.
You'll hear a general welcome by one of our elders or by our pastor followed by singing, prayer, and a sermon. There may be other pieces included, depending on the day.
You are welcome to stay by and talk with each other, maintaining the proper distance at all times.
If you can't make it in person, you can tune in to our livestream on YouTube.
Questions?
Please ask! We hope to see you soon.
Find out about Communion here.
---
Here's what you can expect to experience when you arrive on a Saturday morning.
9:30-10:00 am
One of our greeters will welcome you. Folks may be casually talking with one another in the foyer or in the sanctuary. If you have children, a greeter can show you where their Bible classes are (in the adjacent duplex just east of the church building).
If you're a visitor, we won't ask you to stand during the service. We will offer you a gift bag before you enter the sanctuary.
10:00 am
Our Bible classes begin. Find out more by clicking here. We call them "Sabbath School."
10:50am
Sabbath School classes wrap up and we all head to the sanctuary for our joint worship service. Grab a drink at the water fountain. Use the bathrooms just to the right (women) and left (men) of the sanctuary doors.
The women's bathroom has a changing table as does the mother's room down the hall, through the overflow room. 
The mother's room certainly isn't exclusive to mothers--fathers can use it, too. But we want to make sure nursing mothers have their privacy. Parents can also make use of the overflow space. Don't feel bad about letting your children get some energy out in that space especially when there are other parents and children doing the same!
Before the service starts, there will likely be announcements on the screen. While we believe that the sanctuary is a place in which we get to worship God, we also realize that our foyer is small. So please feel free to converse with friends and strangers, alike, in a way that allows others to hear each other, too.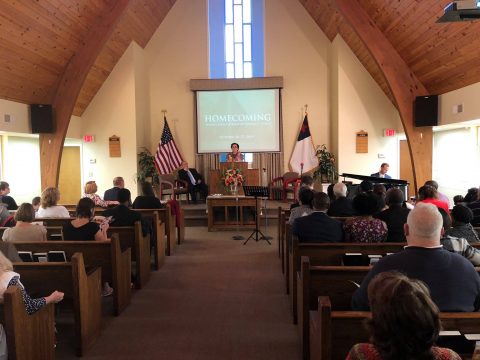 11:00 am
One of the elders will welcome us and share announcements. Other members may also have announcements to share that they've arranged for ahead of time.
We'll then sing together. Sometimes we sing hymns. Sometimes we sing contemporary praise songs. Sometimes we sing older choruses. Sometimes we do a mixture. The words are on the screen and we invite you sing along as we praise God through music.
We sometimes stay seated as we sing until the prayer is given after which we stand for what we call the "opening song." Please feel free to stand or sit as is comfortable for you.
Next we have a time of sharing praises and prayer requests after which someone prays on behalf of all.
Then comes the offering time. We believe that all the blessings we receive come from God and so we give some back to Him to be used in both local ministry and work in other places. We return 10% of our earnings as well as offerings. To learn more, click here and here.
Now it's time for our children to have their special story time. Before they come forward, they grab a small metal bucket (which they can get prior to the service in the foyer) and collect an offering. This offering is unique. The children discuss with the Sabbath School teachers where they want this money to go. It's their own mission project!
Once the children return to their seats, someone reads some verses from the Bible. This "Scripture Reading" ties into the sermon's specific focus for that day.
Next, we sometimes have a special song that's played or sung. It's a wonderful opportunity for someone to share their musical gifts while also helping us transition to the sermon.
And then a Bible-based, Jesus-centered sermon is preached by our pastor, an elder, or a guest speaker. Sermons usually last 20-30 minutes and both challenge us and encourage us for journey ahead.
After the sermon, we stand together again while someone leads in the closing song which is often a hymn of commitment, us saying "yes" to Jesus once again. And then the preacher will say a prayer.
12:30 pm
Whoever has preached will often walk down the aisle to the foyer and greet all who've come. We don't have ushers to actively dismiss each row--we exit through the main or side doors* whenever we're ready.
If you have to run, no worries. If you wish to stay and visit with others, feel free. We hope you've experience the love of Christ and we hope to see you again.
Food
If it's the third Saturday of the month, we have a potluck in the fellowship room downstairs. Feel free to join us and don't worry if you don't have a dish to share! It'll be great to sit with you and get to know you.
*The side door by the piano leads to an exterior door that's connected to a ramp. So if you need ramp access, that's your door. Just let a greeter know.